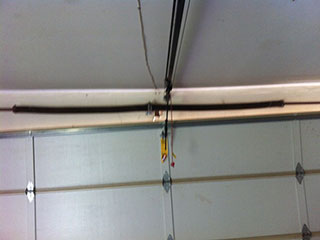 Fast Repairs at Your Convenience
A garage door is only as good as the springs that hold it, meaning any damages can seriously compromise the successful operation of your door. Malfunctions with garage door springs happen to be one of the most common reasons for cars being trapped, which is why it's important to get on top of any issues early. The moment you notice something unusual about the functioning of your garage, it is advisable that you get in touch with one of our trusted technicians before the condition worsens. We can diagnose the issue immediately, providing expert service that will see your springs looking as good as new.
Exchanging Snapped Springs
Experiencing constant high tension inevitably wears on springs, and failures are unsurprisingly frequent. Sometimes repairs just aren't an option. Broken springs often occur at the most inconvenient of times, requiring immediate replacements to put your garage door back into action. We carry a range of different makes and models, supplying only the most high quality and durable springs to ensure that they can last the distance. Our training and experience will ensure they've been installed correctly the first time, as you should not attempt this procedure due to serious safety concerns.
Prevent Problems Before They Happen
Garage door springs are a right pain when they fail, but luckily there is a solution! We are available to conduct a regular maintenance program, continuously checking up on your springs as well as other components to ascertain the smooth operation of your garage door. Factors such as ultraviolet light, dirt, and general wear and tear will inevitably have an effect on even the highest quality of doors. Calling us in for regular checks lengthens the life expectancy of your garage and its components, meaning fewer nasty surprises and more durable mechanisms that will stand the test of time.
Quality and Friendly Service – Every Time!
There is no question that our team at Garage Door Repair Apopka is the best option available when it comes to servicing your garage door springs and ensuring that everything is in working order. Qualified technicians are always willing to provide excellent and unmatched assistance to ensure the proper functioning of your springs. Get in touch with us now, and we'll have your garage door running again before you know it.
Wait, before you go. Are you having garage door spring problems but you're not as close to us as you'd like? Well, if you're anywhere near the southern part of Florida, have no fear. The garage door spring repair experts Miami team is who you should call. They service that entire area and nearby cities too. Be sure to let them know if you need any help with broken springs or any other related thing.
We also offer the following services:
Part Replacement & Repair
Genie & Liftmaster Opener Services
Extension Spring Adjustment
Garage Door Off Track Repair