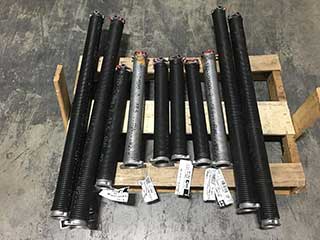 Getting new springs installed on a garage door is no straightforward task. Sure, while it may seem fairly simple, it carries a lot of weight (no pun intended). Replacing garage door springs can be more dangerous than people might expect. The heavy weight of the panels, combined with the high tension the springs become loaded with, means some serious potential risks may be at play. That's why it's never a bad idea to let a professional garage door spring repairman in or near Apopka help you with this project. You can avoid all the dangers by choosing to use expert assistance for this dangerous task.
Why Garage Doors Need Springs
Consider this – you don't really feel any weight when lifting your garage door, do you? Even doors without openers, you can lift up like they weigh no more than a feather. Well, you have the garage door springs to thank for that. They support the weight of the panels and provide a counterbalance to help you lift them up without the weight pressing down on you. Therefore, broken garage door springs make for a serious problem. Now the door doesn't have adequate support, and can crash down or cause something else, like the opener drive system, to break. So when your Apopka garage door's springs become old and need replacement, make sure to tend to it as soon as you can.
Local Help With Broken Spring Replacement For Apopka Area Garage Doors
No need for you to take needless risks. You have readily available assistance at very low and affordable rates nearby, with services offered every single day. When you need quick garage door spring replacement from the nearest Apopka repairmen – all you need is a phone. Call and get professional technicians to carry out the process on that same day. Garage Door Repair Apopka provides emergency solutions with new, durable springs, Sunday through Saturday. Whenever you need help, our team can provide it.