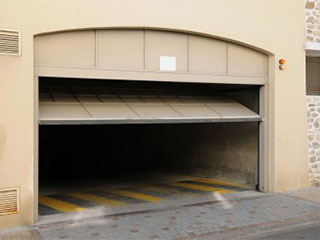 All garage doors make some amount of noise during operation, the volume will probably depend on the components and type of system you have. If your door starts making sounds that it didn't always make, though, this could mean that something is going wrong. An unfamiliar noise means that something's changed in your system, and you'd best find out what it is fairly quickly.
Front And Back
If you can, you should test your garage door and listen while it operates to see if you can figure out what's making the noise. If the sounds are coming from the front of the garage, the cause is likely related to your tracks, panels or springs. If it's coming from the back, the issue is more likely to be with your opener. If you have other systems attached to your garage door, the possibilities multiply.
What's That Grinding Sound?
If you hear sounds like metal scraping or grinding against metal, the problem is likely to rest with the chain drive of the opener (or perhaps the panels, if you have a steel or aluminum door). Alternatively, it could be that your springs and/or opener system needs troubleshooting – worn springs or an issue within the motor can all cause noise related issues.
Higher Pitched Noises
If you hear something like a squealing or squeaking noise, it's probably coming from the door itself (tracks, rollers, or door panels). Your may need to add some fresh lubrication to the moving parts and/or check the insulation to see if it's come loose. Perhaps you're also dealing with a jammed or broken roller - like any other wheel, a roller can squeak if it isn't turning properly.
Rattling Or Clanking
A rattling or clanking sound is caused by loose parts banging against each other. If it's coming from above, then the springs are the most likely culprit (the sound will come from above the door if your system uses torsion springs, and from the garage ceiling if it uses extension springs). Rattling from the door itself is probably a broken panel or roller. If you hear rattling from the back of your garage, something has probably come loose or gotten stuck in your opener.
For more information about our garage door repair and maintenance services, we're available during business hours every day. Give us a call today!